Industrial Cleaning Services Melbourne 
Industrial cleaning ensures hygienic, organized workspace for employees, and a stress-free environment for the management. The appearance of industrial spaces will represent an organization and its brand image, therefore it is vital to keep each space clean and tidy. It is also mandatory to adhere to all health and safety guidelines of industrial space. At times when in-house cleaning staff cannot manage the entire space, or when there are no in-house cleaners, the best way to get your commercial building, factory, or office space cleaned, is to look for industrial cleaning services in Melbourne.
While considering a service provider for your industrial cleaning services in Melbourne, there are a few things you need to consider. First of all, this service provider must be well-reputed and trusted in the industry for the sake of the safety and wellbeing of your property. It is also important to find someone who's available on short notice, and can cater to your exact requirement. There are many contractors, sub-contractors, individuals, and teams who provide industrial cleaning services in Melbourne, among which the best choice is Carekleen for those who seek a professional service.
Meanwhile, doing your own research on what are the types of industrial cleaning services in Melbourne you can request for will be helpful when you explain your requirement to your service provider. Getting to know your workspace, office, building, or factory and listing down what needs to be done will make it easier for both you and your service provider. It is also advised to schedule regular appointments for your industrial cleaning services in Melbourne to upkeep your premises with regular maintenance and cleaning. Carekleen will be the ultimate solution provider for all your industrial cleaning related problems, with a top-notch, professional service with zero hassle for you.
Industrial Spaces we Clean
Most industry cleaning services in Melbourne offer dusting, mopping, vacuuming, garbage disposal and floor cleaning. While these services are good enough to clean and remove the germs from a space, thorough cleaning is required to ensure the maximum hygiene and safety. It is important to sanitize the space and make sure all carpets, upholstery, and the pests are removed from the premises. This is precisely why you need to choose a cleaning service provider that can give you an end-to-end service.
Services
Carekleen not only does the dusting of surfaces that are prone to collect dust particles, but also vacuums all areas that can collect dirt, germs, crumbs, and any other trash. Thorough mopping will make sure your floors are shiny and stain-free, while the window and upholstery cleaning will leave the space looking glam and spotless. You can also request to get your machinery and equipment cleaned. Ducts, exhausts, sinks, toilets, kitchen spaces, tanks and vessels inside your property will be thoroughly cleaned and sanitized. Carekleen will also clean your carpets and remove the dust and dispose garbage. This complete process will not only satisfy your clients but give your employees a boost of motivation to work in a cleaner, safer environment. Carekleen is not only the best place for industrial interior cleaning, but also for industrial floor cleaning in Melbourne.
Benefits of hiring a Professional Industrial Cleaning Services in Melbourne
There are several benefits to hiring professionals to do your industrial cleaning for you. Especially, the high quality and efficient equipment used by industry professionals can clean your premises better than regular cleaning equipment and will get the job done perfectly. From high-powered vacuums to pressure washing and window cleaning equipment, these will save you a tremendous amount of time and money.
Hiring professionals in industrial cleaning services in Melbourne is the best way to save time, effort, and money. Your employees can quickly resume work as Carekleen will not take long to clean your spaces, no matter how big they might be. The experienced and highly skilled staff will get the job done in no time, making sure your work goes uninterrupted.
Half-baked cakes are no good, same goes for cleaning. Hiring a professional will give you the satisfaction of thoroughly cleaned spaces with no surface unchecked. The entire premises will be spotless, looking fresh and clean, while leaving it germ-free with advanced sanitization methods.
Get 5% OFF your First Booking
We have special discounts to support businesses in the current COVID crisis. Talk to us for best prices, if you need any type of cleaning services including disinfection or deep cleaning.
Why Choose Us
Why Carekleen?
If you're seeking for with industrial cleaning services in Melbourne, choosing Carekleen is the way to go. A reputed cleaning service provider in town, Carekleen gives you the most affordable rates for the fastest and most reliable industrial cleaning service. Moreover, the equipment is of highest grade, and the staff is highly skilled and professional.
Catering to your requirement in the most suitable approach, Carekleen will allocate time, equipment, and manpower depending on how large your premises are, or on how big the job is. There is no need to worry about contracts or hefty bills, as Carekleen will tend to your needs within a short period of time, for a fee that works for you.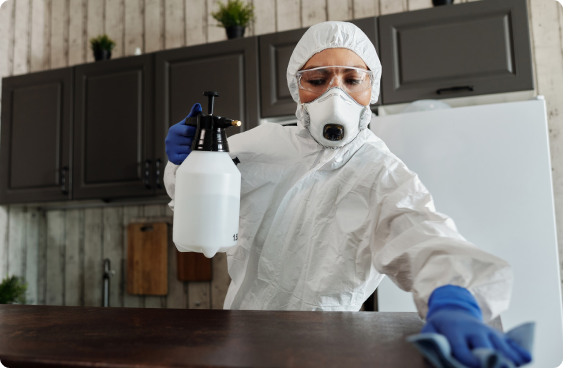 We are very glad to get good reviews.